Reporting North Korea
Seminar/Forum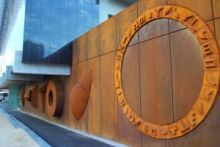 Yasuko Hiraoka Myer Room, Level 1
Sidney Myer Asia Centre

Map
Join Dr Jay Song, Senior Lecturer in Korean Studies, and longtime journalist, Jean Lee, as they discuss the challenges in covering North Korea on the ground and the latest developments in the Korean peninsula. Jean Lee led the Associated Press news agency's coverage of the Korean Peninsula as bureau chief from 2008 to 2013. In 2011, she became the first American reporter granted extensive access on the ground in North Korea, and in January 2012, she opened AP's Pyongyang bureau. As a journalist, Lee made dozens of extended reporting trips to North Korea, visiting farms, factories, schools, military academies and homes in the course of her exclusive coverage across the country. During Lee's tenure, AP's coverage of Kim Jong Il's 2011 death earned an honorable mention in the deadline reporting category of the 2012 Associated Press Media Editors awards for journalism in the United States and Canada. Lee also won an Online Journalism Award in 2013 for her role in using photography, video and social media in North Korea, and was nominated for a Pulitzer Prize in feature reporting in 2013.
Presenters
Dr Jay Song

Dr Jiyoung (Jay) Song is a Senior Lecturer at the Asia Institute of the University of Melbourne, Australia, and Global Ethics Fellow of the Carnegie Council for Ethics in International Affairs, New York, U.S.A. Prior to her current positions, Jay was the Director of Migration and Border Policy at the Lowy Institute (Sydney), Assistant Professor of Political Science at Singapore Management University, Associate Fellow of Chatham House (Royal Institute of International Affairs, London), Consultant for the United Nations Office of the High Commissioner for Human Rights (Geneva), and Human Rights Officer at the National Human Rights Commission of South Korea (Seoul). She also held several academic positions at the National University of Singapore, the University of Oxford and the University of Cambridge. She completed a PhD in Politics and International Studies (Cambridge, UK), LLM in Human Rights (Hong Kong), and BS in Mathematics (Seoul, Korea). She is the author of *The History of Human Rights Society* in Singapore, 19652015 (London: Routledge, 2017), *Irregular Migration and Human Security in East Asia* (London: Routledge, 2014), *Human Rights Discourse in North Korea: Post colonial, Marxist and Confucian Perspectives* (London: Routledge, 2010), and a number of peerreviewed academic articles. Her current research focuses on migration and human security in Asia, using complexity theory.

Ms Jean Lee

Jean H. Lee is an awardwinning, Pulitzer Prizenominated writer, commentator and expert on North Korea who serves as Director of the Hyundai MotorKorea Foundation Center for Korean History and Public Policy at the Woodrow Wilson International Center for Scholars. She has a bachelor's degree in East Asian Studies and English literature from Columbia University, and a master's degree from the Columbia University Graduate School of Journalism. She worked as a reporter for the *Korea Herald* in Seoul, South Korea, before being posted with AP to the news agency's bureaus in Baltimore; Fresno, Calif.; San Francisco; New York; London; Seoul, South Korea, and Pyongyang, North Korea. While on sabbatical from AP in 2014, Lee carried out reporting and research as a fellow with the Alicia Patterson Foundation. After leaving AP, she served as a Public Policy Fellow with the Wilson Center in 2015 and a Global Fellow with the DCbased think tank from 20162018. Lee has taught courses in North Korean studies at Yonsei University's Underwood International College and at Korea University's Graduate School of International Studies, both in Seoul. Lee appears frequently on CNN, NPR, BBC, CBS News, PBS Newshour, PRI and other media outlets as a commentator on Korearelated topics. She is a contributor to the *New York Times* and *Esquire* magazine, among other publications, and has been invited to speak at the Aspen Security Forum, SXSW, the Council on Foreign Relations, the Brookings Institution, the Korea Society, the Asia New Zealand Foundation and by other think tanks.