Employment and the Future of Work
Seminar/Forum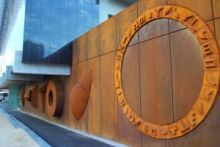 Room 920
Law
185 Pelham Street
Map
Join us for a Q&A discussion with four prominent commentators on employment and the future of work. The panel includes Tim Dunlop, an author and academic; Mark Wooden, Faculty of Business and Economics; Micheal Coelli, a lecturer at the Department of Economics; and Anne Bardoel, Department of Management & Marketing, Swinburne University of Technology.
Lunch will be provided.
This event is a preview for the Melbourne School of Government Doctoral Academy. The Doctoral Academy is a new initiative from the School. It will be formally launched in early 2019 and will provide high performing PhD students with additional support, professional development, and networking opportunities. These previews are designed specifically for potential participants in the Academy.
Upon registration, PhD students are encouraged to submit questions on employment and the future of work. On the day, Professor Bardoel will present and direct panel discussion of your questions.
Presenters
Professor Anne Bardoel

Swinburne University of Technology

Anne Bardoel is a Professor, Department of Management & Marketing, Swinburne University of Technology, Melbourne, Australia. Previously she has held various leadership positions at Monash University including Deputy Head of Department of Management, Deputy Director of the Australian Centre for Research in Employment and Work (ACREW), Chair of the Faculty of Business Equity and Diversity Committee, and Head of the Human Resource and Employee Relations Academic Group in the Department of Management. Anne has a national and international reputation as a researcher in the work and family/life area. She has published many articles in high ranking academic journals such as Sociology, Human Resource Management, International Journal of Human Resource Management, Gender Work and Organization, and Demographic Research. Her current research projects include management of worklife issues, telework, caregiving, allied health employee management, and team issues in general practice medical clinics. She has substantial experience and expertise in the development and conduct of both qualitative and quantitative research methods. She is a recipient of a National Health & Medical Research Council (NHMRC) grant (20152020) investigating 'A partnership for evidencebased resource allocation and enhanced research translation in allied health'. Currently she is a member of the Australian Government's Workplace Gender Equality Agency Advisory Group. Previously she has held positions as a member of the Victorian Government's Working Families Council and President of the Work/Life Association (Australia). In these roles, she actively promoted discussion among business leaders and policy makers about worklife issues. Her teaching experience is reflected in the range of units she has taught which include organisational behaviour, human resource management, business communication, and work, family and life. In 2011 she was awarded a Dean's Commendation for Excellence in Teaching at Monash University. She has taught postgraduate classes at Northeastern University (Boston, USA), University of Nijmegen (Netherlands), and was a Visiting Professor at EDHEC Business School (Nice, France).

Dr Michael Coelli

University of Melbourne

Mick joined the Department of Economics as a Lecturer in October 2005 after completing his PhD in Economics at the University of British Columbia earlier that year. He completed a Bachelor of Commerce (Economics Honours) degree at the University of New South Wales in 1990, and obtained a Master of Arts (Economics) degree from the University of British Columbia in 2000. He was promoted to Senior Lecturer in May 2010. Mick's current work focuses on empirical research in both labour economics and the economics of education. He has analyzed the relationship between individual education levels and employment earnings in Australia, and the polarisation of occupations in Australia. He has investigated the role of family background in determining the postsecondary education attendance of individuals, the effect of school principals on the education outcomes of youth, and the effect of high school graduation on the welfare recipiency of young adults. Mick has also investigated the role of occupation differences on the gender earnings gap in Australia and the US, plus the drivers of occupation differences by gender.

Professor Mark Wooden, Melbourne Institute, University Of Melbourne

Tim Dunlop

The Guardian

Tim Dunlop is an author and academic. His book, *The New Front Page: New Media and the Rise of the Audience*, is a seminal text on the digital media revolution and presaged changes still affecting the industry. He has been a columnist for the ABC, as well for News Ltd. He writes on the future of work for *The Guardian* and speaks regularly in public and professional forums on the same topic. His latest book is the acclaimed *Why The Future Is Workless*, which discusses technology and the future of work. His new book, *The Future of Everything*, is released on September 1st.